In today's digital age, almost everyone, from trendy grandmothers playing online games to culinary enthusiasts showcasing their meals, is actively using social media platforms. Regular checks on platforms like Facebook, Instagram, and TikTok have become an integral part of many people's routines.
What does this trend mean for emerging businesses? It signifies a golden opportunity: a direct link to a vast audience of prospective clients. The challenge lies in making your presence known to them. A clever and efficient way to achieve this is by embedding social media badges on your business cards. This ensures that with just a few mobile taps, potential clients can easily spot and link up with your social profiles. Here's a straightforward three-step guide on how to integrate these badges into your business card design:
How to Add Social Media Icons on Business Cards
Selecting the Right Icon: Begin by searching for the desired platform logo. For instance, keying in "Facebook logo for business cards" on Google images might assist you in finding the perfect fit. Ensure that the images are permissible for usage. If you're tech-savvy, vector graphics or raster images of a minimum 300 dpi will serve you best.
Determine the Position and Scale of Icons: The aim is to have your icons stand out without dominating the card's design. Depending on the card layout and its content, you can opt to feature your social credentials either on the front or rear side. Need ideas? Explore diverse business card designs for inspiration. Additionally, consider adding a catchy line indicating why one should engage with you on social media – be it exclusive deals, insightful content, or updates on new offerings.
Incorporate Your Social Credentials: Finally, ensure you input the correct usernames or URLs for each respective platform. Employ the preview function to verify text clarity (preferably a font size of at least 8pt). Revisit the content multiple times to eliminate any errors.
The Power of Social Media for Your Brand: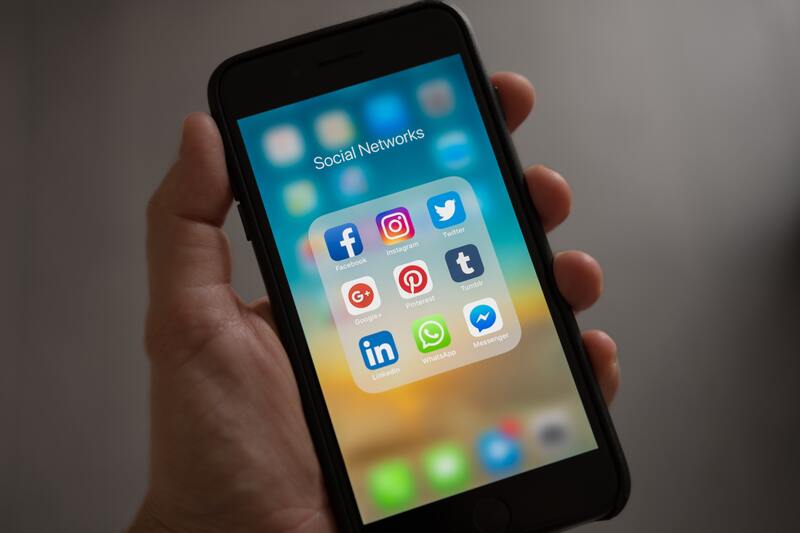 Having explored the integration process, it's equally essential to understand why these icons matter. Here's how businesses can leverage social media for a broader reach, cultivating customer relationships, and more:
Becoming Unforgettable: Making a lasting impression is vital. Although business cards play a significant role, ensuring you remain top-of-mind is invaluable. Social media offers numerous chances to be that unforgettable brand. Engaging content like behind-the-scenes shots, product or service tips, or simply maintaining a positive online presence can enhance brand recall significantly.
Generating Excitement Effortlessly: Previously, businesses relied on pamphlets, brochures, and word-of-mouth to broadcast updates. While still relevant, social media can amplify your reach rapidly. Launching a new product line? Showcase it on Instagram. Running a promotion? Announce it on Facebook. Besides these, platforms serve as a platform for product suggestions, maintenance reminders, and other valuable insights.
Facilitating Immediate Engagement: In an age of online accessibility, customers want swift solutions. When linked on social media, they can access you directly via your profiles. This could be a direct call, a booking feature, or even instant messaging. Offering prompt replies and updating information about availability, FAQs, or other essential aspects turns your social media into a virtual helpline, assuring customers of your attentive presence.
Concluding Thoughts
Embedding social media icons on business cards isn't merely a modern branding strategy; it's a potent tool to connect and stay relevant in the consumer's mind. It serves as an extended platform to project the essence, values, and offerings of your brand, amplifying visibility, interaction, and overall brand impact in the digital cosmos.