In marketing, the initial impression you cast is pivotal. For others to entrust you with shaping their brand's initial image, your personal branding must be impeccable. This is where a meticulously crafted marketing logo comes into play, embodying both your style and proficiency.
Seeking a spark of creativity for your marketing or ad agency logo? Dive into our collection of marketing logos across diverse scales and sectors. Discover the shades, typography, and icons that top brands employ to differentiate themselves. And when you're set to shape your quintessential logo, our logo creator is at your service — free of charge!
Essential Elements for an Outstanding Marketing Logo
Color
The hue of your logo often grabs attention first. So, select shades that mirror your agency's ethos and sync with your clientele's preferences. While numerous agencies embrace the timeless elegance of black and white, if you're digitally inclined, consider infusing neon tints like neon blue to evoke a contemporary, forward-thinking vibe.
Layout
Whether you're into social media campaigns, crafting print ads, or developing digital platforms, your logo's layout should be a reflection. For agencies juggling multiple platforms, a neat and uncluttered logo design offers the most adaptability.
Typography
Your logo's typeface should encapsulate creativity and reliability. It's about showcasing a flair for innovation while ensuring outcomes. Many agencies lean towards bold, prominent fonts to strike an instant visual chord, enhancing brand recall.
Iconography
Although numerous marketing logos sidestep the use of icons, it's not a binding norm. If you're inclined to incorporate a symbol, ensure it resonates with your brand's ethos. It's equally crucial that your icon seamlessly integrates with the rest of the design and retains clarity across different scales.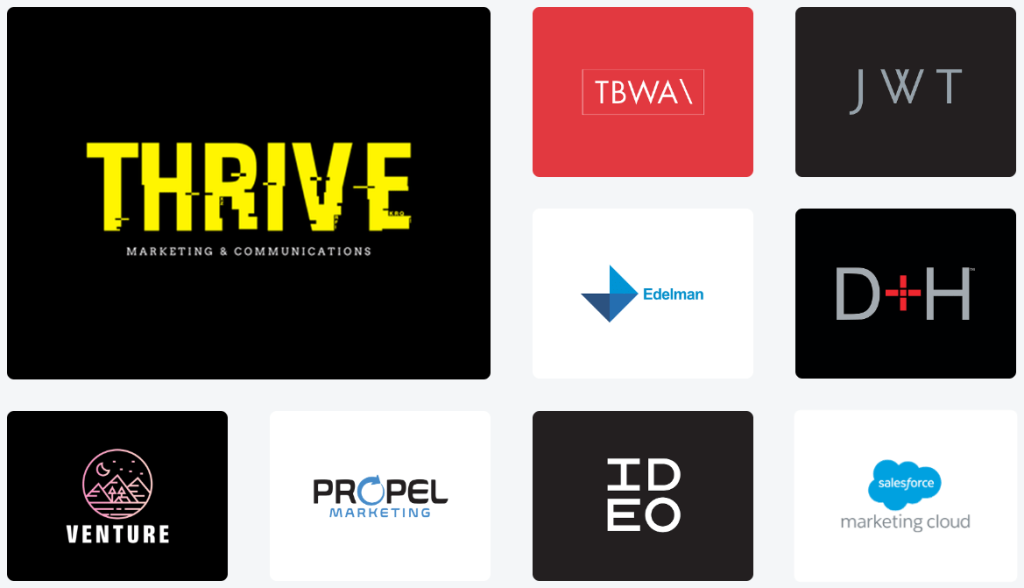 What Do Leading Companies Do With?
Take Accenture Interactive as an example. This leading marketing agency boasts a clean visual emblem that mirrors a mathematical sign, enriched by gradient combinations. PwC Digital Services, on the other hand, chose an intricate pattern of slim lines, while Deloitte Digital keeps it crisp with text and an understated color dot. Meanwhile, Dentsu, based in Japan, stands out with its stark contrast of black typography on a white backdrop.
Creating Your Brand's Marketing Logo
Ready to design? Just hit "Create a logo," and let Logomak do the rest! Within moments, Logomak will present an array of tailored logo options for your niche. Simply pick a design that resonates, tweak it to your preference, and save it in your desired format.
Marketing Logo FAQs
Why is a logo essential for my marketing business?
A logo serves as the cornerstone of your brand's identity, visually articulating your marketing prowess and core values. A well-crafted logo not only fortifies a polished professional image but also distinguishes you from industry rivals.
What defines a stellar marketing logo?
A standout marketing logo embodies four core traits: simplicity, memorability, scalability, and resonance with your target demographic. Embracing these attributes ensures a logo that instills trust and recognition among clients.
Which colors best complement marketing logos?
The colors of your marketing logo should echo your firm's expertise and character. For instance, digital marketing entities often embrace vibrant neon shades to signify the technological forefront. However, it's prudent to limit the palette to two or three harmonious colors.
Which font suits marketing logos best?
Font selection hinges on the brand persona you aim to project. A Sans-Serif font might convey a contemporary, audacious image, while a Serif font exudes the reliability of a well-rooted, conventional agency.
What symbols resonate with marketing logos?
For marketing logos, icons should encapsulate desired brand values. Industry favorites encompass emblems symbolizing growth, innovation, and ingenuity, such as arrows, chat bubbles, stars, or lightbulbs. Ensure any chosen symbol integrates seamlessly with other design facets for brand coherence.
How can I craft a marketing logo?
Crafting a logo offers multiple routes. Engaging a professional designer is one, but if budget constraints or a DIY inclination prevail, online tools like Logomak can guide you. Simply input preferences and a captivating logo materializes swiftly.