Dreaming of establishing your photography venture has occupied your thoughts for the past few months. In a moment of excitement and inspiration, you decide to unfold your visions and goals to your family, narrating your aspirations of bagging a renowned photography accolade one day. That's when uncle Joe chimes in with the standard skeptical comment, "Dear, the world is brimming with photographers. Why add one more to the mix?"
Reluctantly, you find truth in Uncle Joe's words. The current era sees a photography market that is teeming and saturated. Despite the constant demand for photo and video content by companies and individuals globally, supply overwhelmingly overshadows demand. Consequently, photographers are left scrambling for recognition.
So, how can one make their business conspicuous? Personalizing your creations through branding is a route to gain distinctiveness. This piece will guide you on imbuing your photos with a logo, a metaphorical signature that can elevate brand awareness, advertise your talents, and shield your works from unfair competition.
Why Add a Logo to Photos?
Brand Recognition: It helps in establishing and reinforcing brand recognition across various platforms.
Prevent Image Theft: A logo can act as a deterrent to those who might want to use the image without permission.
Professionalism: Logo-embedded photos portray a sense of professionalism and commitment to quality.
Promotional Benefit: Every time the photo is shared, it carries the brand identity along, thus serving as a passive promotional tool.
How to Add a Logo to Your Photos
The digital world is laden with platforms that enable you to seamlessly integrate a logo to your pictures. We have compiled a concise list of the most user-friendly sites, aiming to conserve your valuable time.
Best Online Services for Adding a Logo to Your Photo
Canva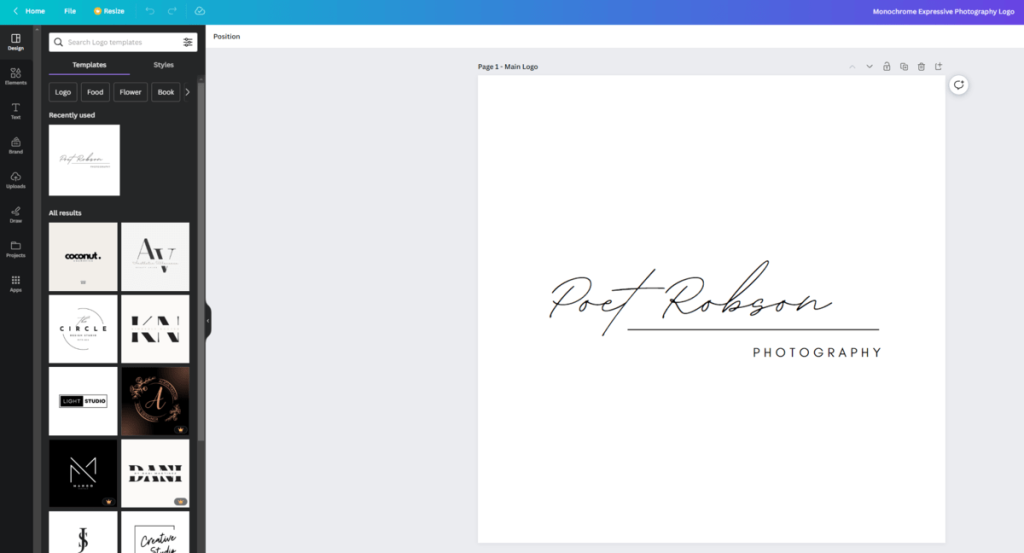 Canva is a versatile, user-friendly graphic design tool that serves a myriad of purposes, one of them being adding logos to photos. This platform is distinguished by its intuitive interface, making it accessible for users of all levels of design proficiency. Whether you're a professional designer or a beginner, Canva provides an array of options to design and customize your logo and integrate it seamlessly with your photo.
Watermark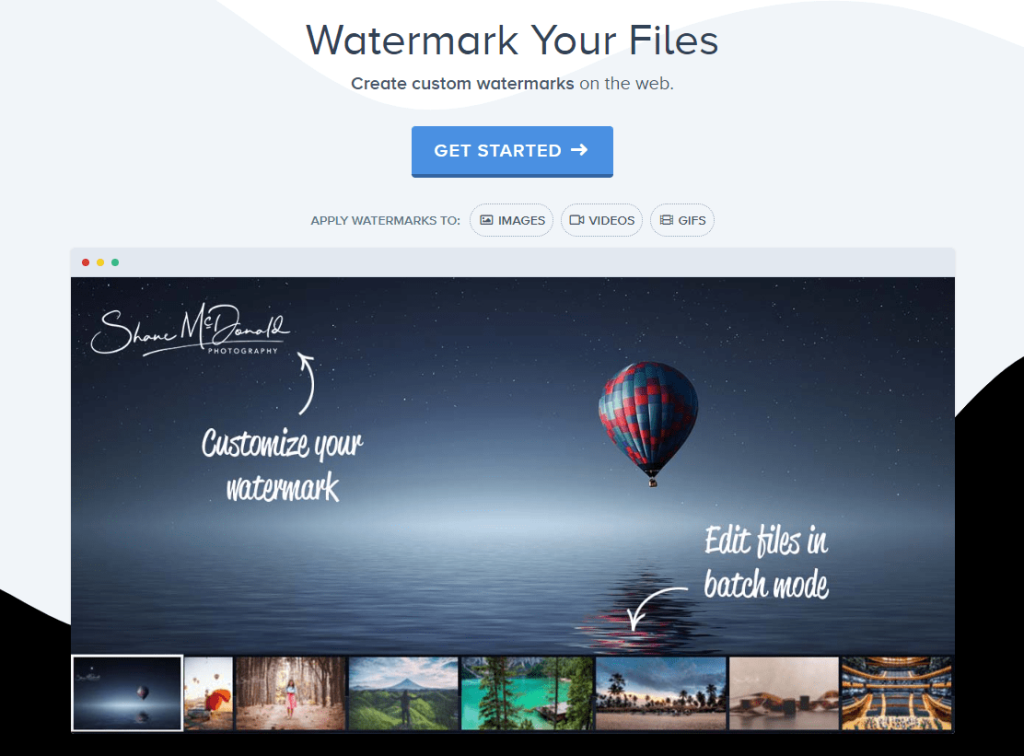 Watermark.ws stands out due to its straightforward interface, amassing over a million users. It offers the flexibility to imprint a logo on up to 5 photos or videos in its free version and provides access to elementary editing utilities. Additionally, it accommodates the Cyrillic alphabet, allowing the addition of words to your photo. The process is simple: upload, integrate, and download your watermarked image.
Picmaker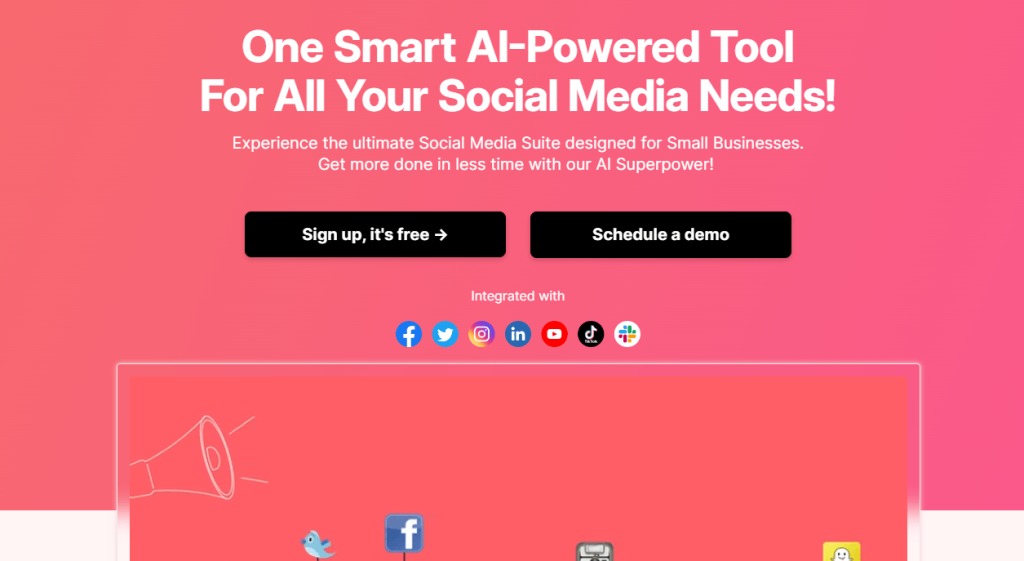 Picmaker stands out as a specialized, straightforward online service catering predominantly to users who wish to embed logos or text watermarks to their photos, ensuring a blend of simplicity and efficacy. It is an invaluable resource for those who prefer quick, hassle-free solutions for protecting and branding their visual content.
Watermarkly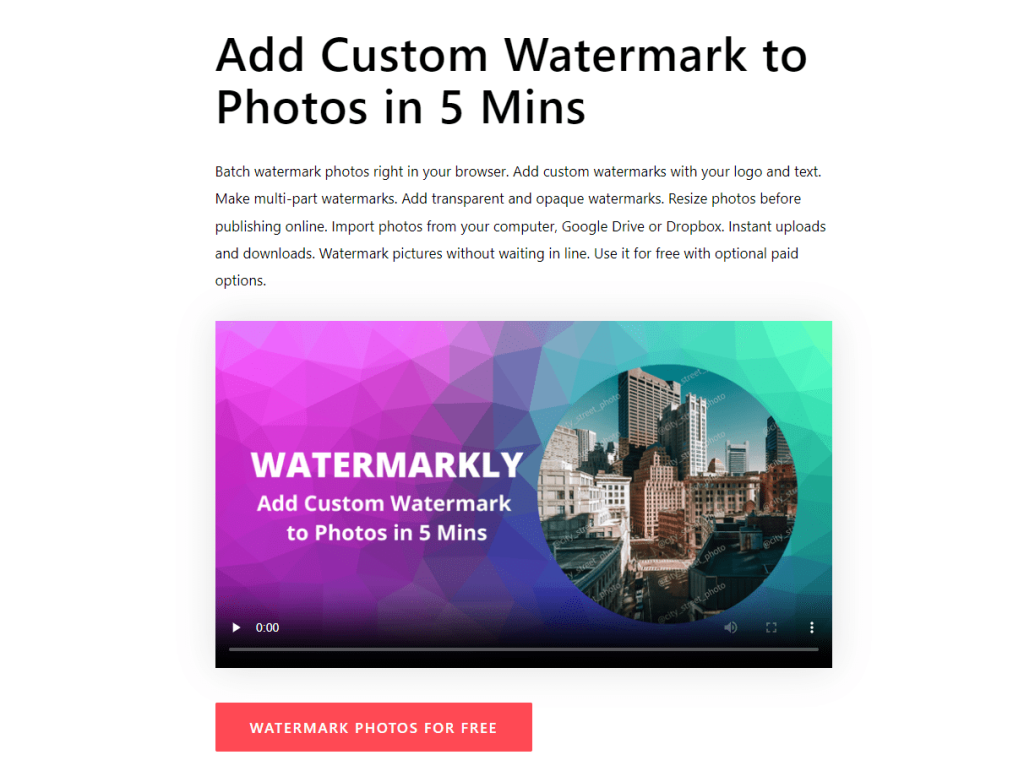 Watermarkly presents a quick and complimentary method to insert a logo. Importing photos from various sources, adjusting logo transparency, and even batching multiple photos are features that make this service stand out, optimizing your time management significantly.
Best Software to Add a Logo to Your Photo
Photoshop
The legendary Photoshop couldn't be excluded. For those adept with this graphic editor, adding a watermark is a breeze. However, some may find it challenging, but worry not; the procedure is feasible even for novices. A step-by-step guide on creating a brush from your logo and applying it to photos is provided, along with supplementary video tutorials for those who prefer visual learning. The method is efficient and aids in branding multiple photos swiftly.
Best Mobile Apps for Adding a Logo to Your Photo
TheBiz Watermark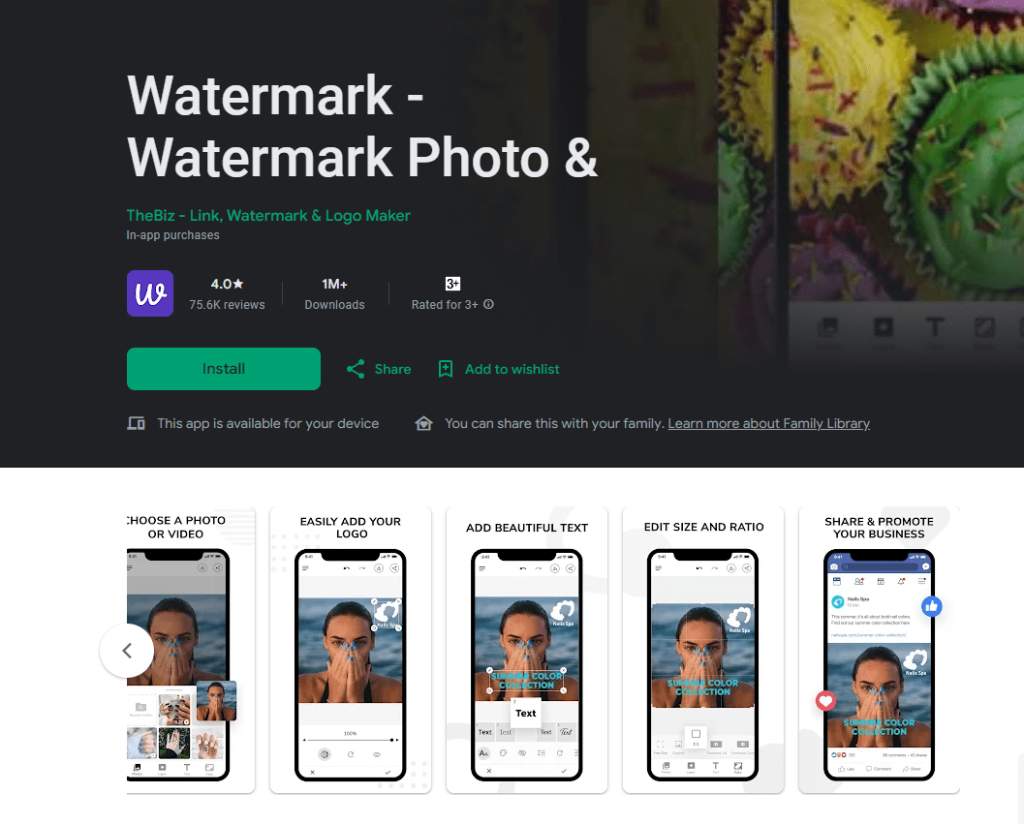 The TheBiz Watermark app is a renowned tool for embedding text or logos effortlessly to any image, offering a smooth and user-friendly interface. It comes with both free and premium versions to suit different needs. The basic, free version provides users with the capability to perform up to 40 changes, catering to minimal editing needs, while the premium version unlocks unlimited editing potentials. This versatile app empowers users to safeguard their intellectual property by allowing watermarks on single or multiple photos directly from their smartphones, with options to adjust the watermark or append text as needed.
LogoLicious
LogoLicious stands as a quick, free, and easy-to-use application, ideal for branding artworks with utmost simplicity. It allows users to apply watermarks to photos in no time! Users can upload and edit their photos and logos, save the refined, watermarked photo, and then share the impressive outcomes with friends. It supports multiple file formats like PNG, JPG, and GIF, ensuring compatibility and convenience across diverse user requirements.
eZy Watermark
eZy Watermark is a free, popular application with over 3 million users relying on it for their photo branding needs. It allows easy uploading of images from galleries or social networks, and even instant photo capturing for on-the-spot branding. It's exceptionally accommodating; in the absence of a logo, users can utilize an image, text, or signature. The app comes with an advanced editing toolbox, providing extensive editing options and making it an indispensable app for every iOS user seeking robust watermarking solutions. It's not just an app; it's a comprehensive branding solution for individuals who value their intellectual property.
Conclusion
Navigating a saturated photography market necessitates distinguishing one's work. Branding through logos not only aids in gaining recognition but also acts as a protective barrier against unfair competitive practices. Services like Watermark, Watermarkphotos, Watermarkly, mobile apps, and the unparalleled Photoshop offer varied solutions for integrating logos seamlessly, suiting different user needs. Whether you are a seasoned photographer or a novice, branding your artworks effectively is crucial in marking your presence in the crowded photography realm. By following the provided insights and guidelines, you can stride confidently towards making your mark in the photography industry, leaving skeptical remarks, like those of Uncle Joe, in the dust.