One of the most common challenges for businesses in 2023 is balancing affordability and quality in design. Keeping an in-house designer is too expensive, but looking for professional freelancers takes a lot of time.
If this describes your situation, there's a simple solution for you — try Awesomic. And if you've never heard about it before, no worries. Below, you'll find everything you need to know about this service.
What is Awesomic?
Awesomic is a flat-rate design subscription platform that matches your brand with professional designers. Since its launch in 2020, the platform's designers have already worked with 1,000+ businesses and completed more than 10,000 tasks.
The app is a Ukrainian start-up backed by Y Combinator, a world-famous start-up training program. In 2021, it raised a $2 million round. The platform is featured in Forbes, Product Hunt, Tech Crunch, and Fortune.
What can you get at Awesomic?
Awesomic is a one-stop-service app where you get access to a community of highly-skilled and vetted designers. Depending on your needs, you'll be matched with one or more professionals to work on:
Graphic design
Logo
Brand identity
UI/UX design
Responsive web design
Mobile app design
Landing page
Illustrations
Webflow development
Presentation design
Print
Who is it best suited for?
Start-ups: Awesomic offers affordable subscription plans, even for tight budgets.

Agencies: The platform is a good alternative to hiring an in-house team, but also works well to support your team with high-intensity projects.

Tech companies: You can find UI/UX, Webflow, or mobile app designers to support your web or mobile app development project.

How Awesomic works
Awesomic is a monthly subscription service. This means you pay a fixed price each month and get as many designs as fit into this timeframe.
Here's how it works in four simple steps.
Step 1. Sign up
When you register on the platform, you can choose the subscription plan best suited to your design needs. The tiers differ based on the type and the volume of designs that you need.
Step 2. Create a task
Fill in your design brief with as many details and specifications as you want. You can include links with references or design attributes.
Step 3. Get matched
As soon as you've created a task, Awesomic's AI-powered algorithm starts processing your request. In the fastest possible time, you get matched with the best-fit designer.
Step 4. Get updates
Once you're matched with your designer, you'll get the first update on the project within 24 hours. Apply iterations if needed, then proceed with other tasks.
Is Awesomic unlimited?
Is the sky truly the limit for Awesomic designs?
Yes. However, it doesn't mean you can get all the designs in the world in one month. Awesomic doesn't limit you to a certain number of visuals you can request or how many iterations you can suggest. But the complexity of your project is what affects the speed of your designer.
However, you're also not limited to just one subscription. You can scale up to several plans at the same time in just one click. It's a good option when you need to double the outcome without sacrificing the quality.
How much does Awesomic cost?
Awesomic offers three plans: Light, Pro, and Ultimate. Here's what you get in each plan:
Light — $699/month. Includes banner & digital ads, print & packing, book & magazine, emails & signatures, photo & image design, and any other graphics.
Pro — $1,995/month. Includes everything in the Light plan plus logo & identity, landing page & websites, no-code development, mobile & web app, animations, and custom illustration.
Ultimate — $2,490/month. Combines one designer working on the Light tasks and one working on the Pro tasks. Also includes Slack integration.
Why Awesomic's a gem of the design world
The idea of a monthly design subscription isn't new, but here's what makes Awesomic stand out amidst its competitors.
Quality
Awesomic meticulously selects its designers — all of whom are either middle or senior level designers in their field. Only 5% of the applicants make it to the platform's design community.
Speed
Awesomic promises to deliver your task updates in 24 hours or less. Many of the platform's clients' reviews confirm that Awesomic keeps its promise.
Communication
All of the subscription plans include a Customer Success Manager helping you solve any issue. Also, Slack integration makes your communication with designers efficient and easy.
Safe test drive
Awesomic has an option of a $7 trial week. During this period, you can see how the platform works and get your first results at a minimal price.
Awesomic examples
It is time to see the actual results of Awesomic work. Let's take a look at their project with memoryOS. It's a US start-up that developed an app for gamified memory improvement. The innovative concepts of the app combined with Awesomic's visuals helped memoryOS become the most funded ever in the history of Kickstarter.
In just 28 days, Awesomic designers crafted visuals for the app's UI/UX design, Kickstarter project page, App Store, and social media pages. See below the 'Before and After' of Awesomic work.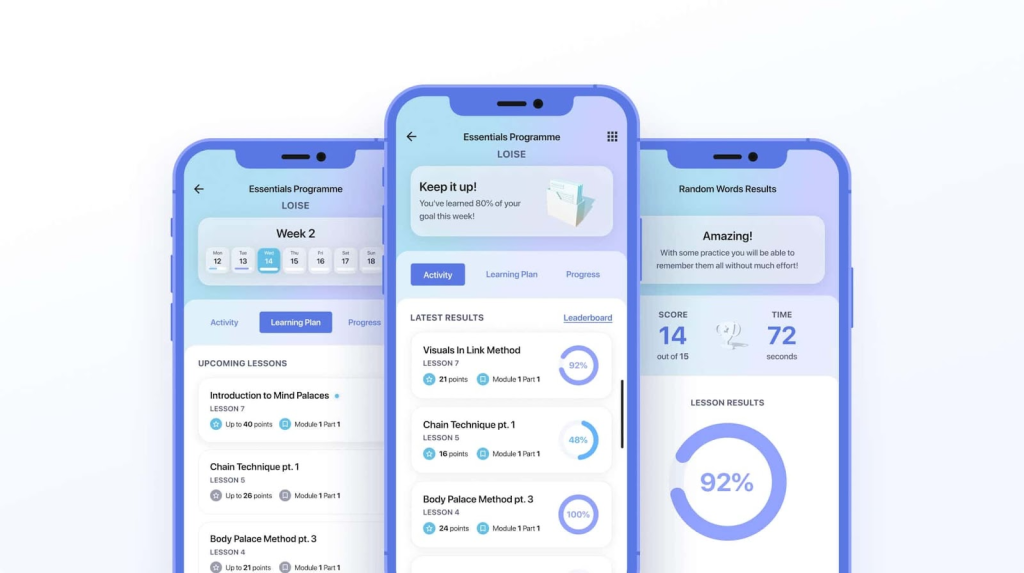 Make a collage of the two pictures
Another example of Awesomic designers' expertise is their project with Mentum. It's a US fintech start-up improving financial inclusion in Latin America. Awesomic's designers worked on various aspects of Mentum's visuals. Firstly, they developed a brand new logo to align with the brand's identity.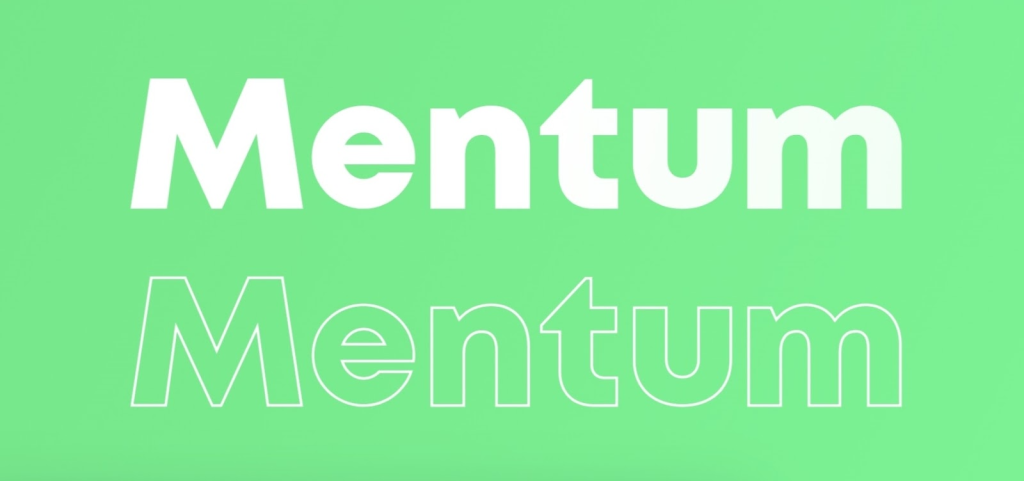 Besides the logo, the designers worked on Mentum's website, improving its visuals and designing web pages from scratch. In addition, they design a compelling pitch deck. As a result, Mentum's collaboration with Awesomic set the tone for the brand, differentiating it from competitors and improving its market position.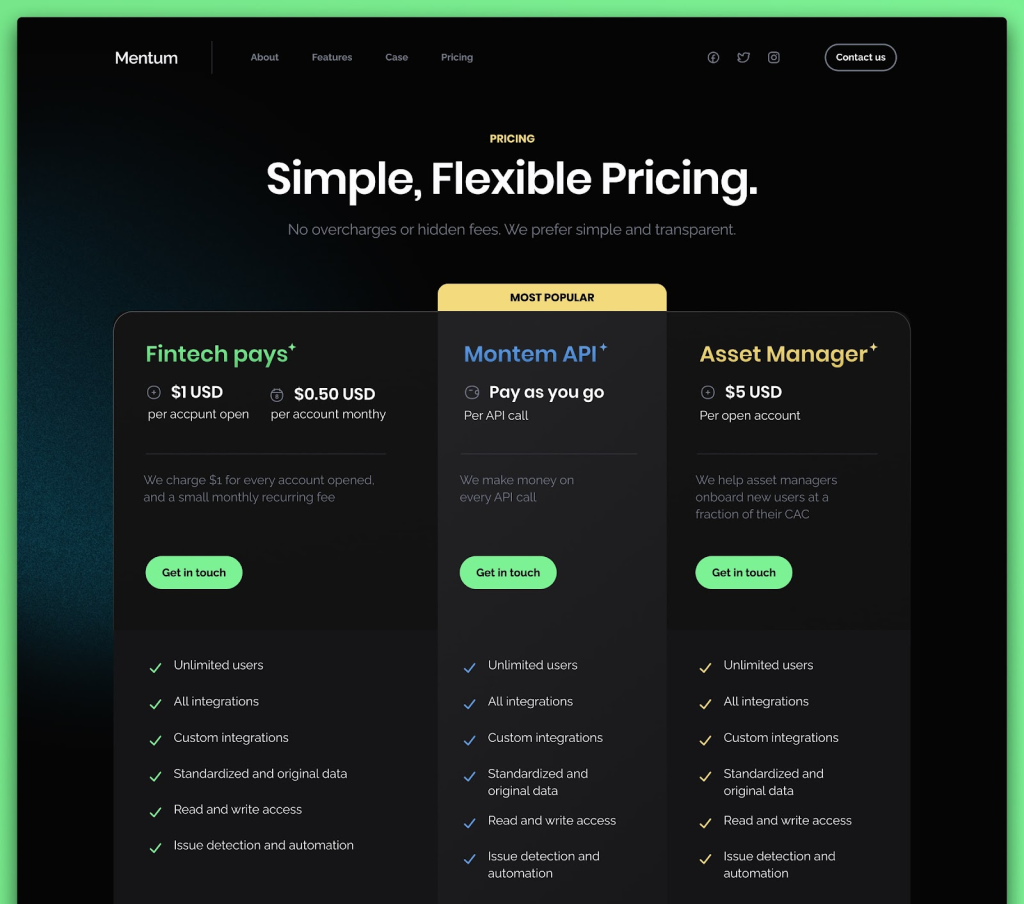 If you want to see more of Awesomic's client results, check out their portfolio or take a look at their case studies.
7 reasons why Awesomic is your go-to platform
If you're looking for a design service like Awesomic but still need convincing, here's a sign. Below you'll find a summary of the reasons why this platform is worth exploring.
Reason #1. Save your money
One month of an Awesomic subscription costs anywhere from $699 to $2,499 (which includes two designers). Compared to full-time designers or freelancers, you'd have to spend a lot more than that.
Reason #2. Work with top-quality designers
The selection of Awesomic's 100+ designers includes only middle and senior-level professionals. Combined with accurate AI-powered algorithm matching, there's no need to worry about not finding a fit for you.
Reason #3. One-stop service for all your design needs
One Awesomic subscription can cover your logo, branding, UI/UX, Webflow, or any other graphic design needs. No need to spend hours on screening freelancers for each project.
Reason #4. Adjustable budget
You can manage your subscription according to your current design budget. Scale up in a high season or cancel it in low season. No additional fees will be taken.
Reason #5. Meet all your deadlines
As a fast-paced service, Awesomic guarantees results every 24 hours. The easier your request, the faster you can expect results.
Reason #6. Dedicated Customer Success Manager
If there's any challenge with communication or the creative process, you can count on their support. Awesomic offers a Customer Success Manager with each plan. They'll answer all of your questions and guide you through the process.
Reason #7. Trial week option
Before committing to a monthly subscription, you can get a taste of the Awesomic experience with a trial week for $7. You'll get an opportunity to make sure Awesomic designers meet your standards and even get the practical results of your requests.
If Awesomic ticks all of the boxes in your design service requirements list, there's no need to wait any longer. Sign up now and start getting those awesome designs ASAP.